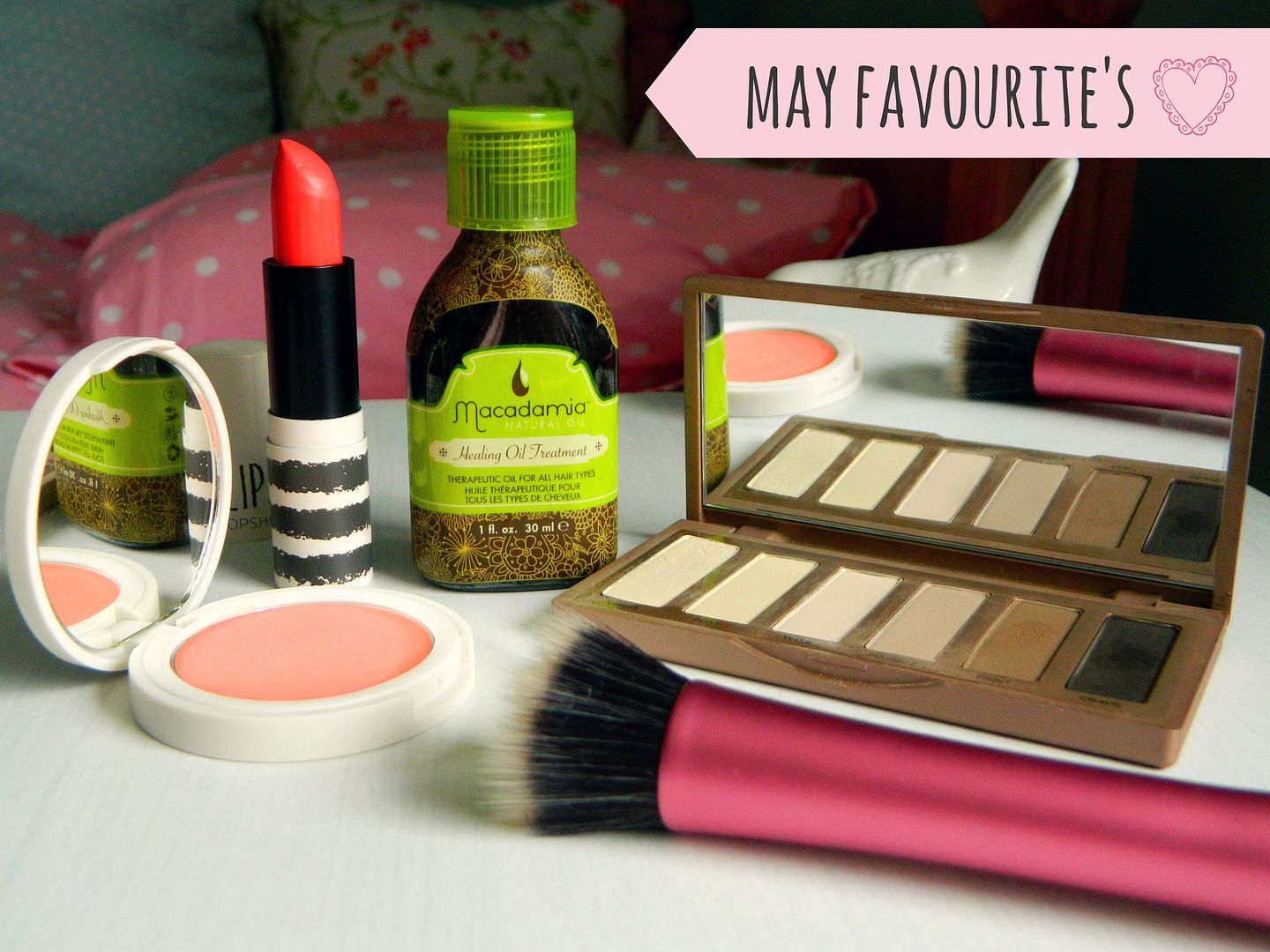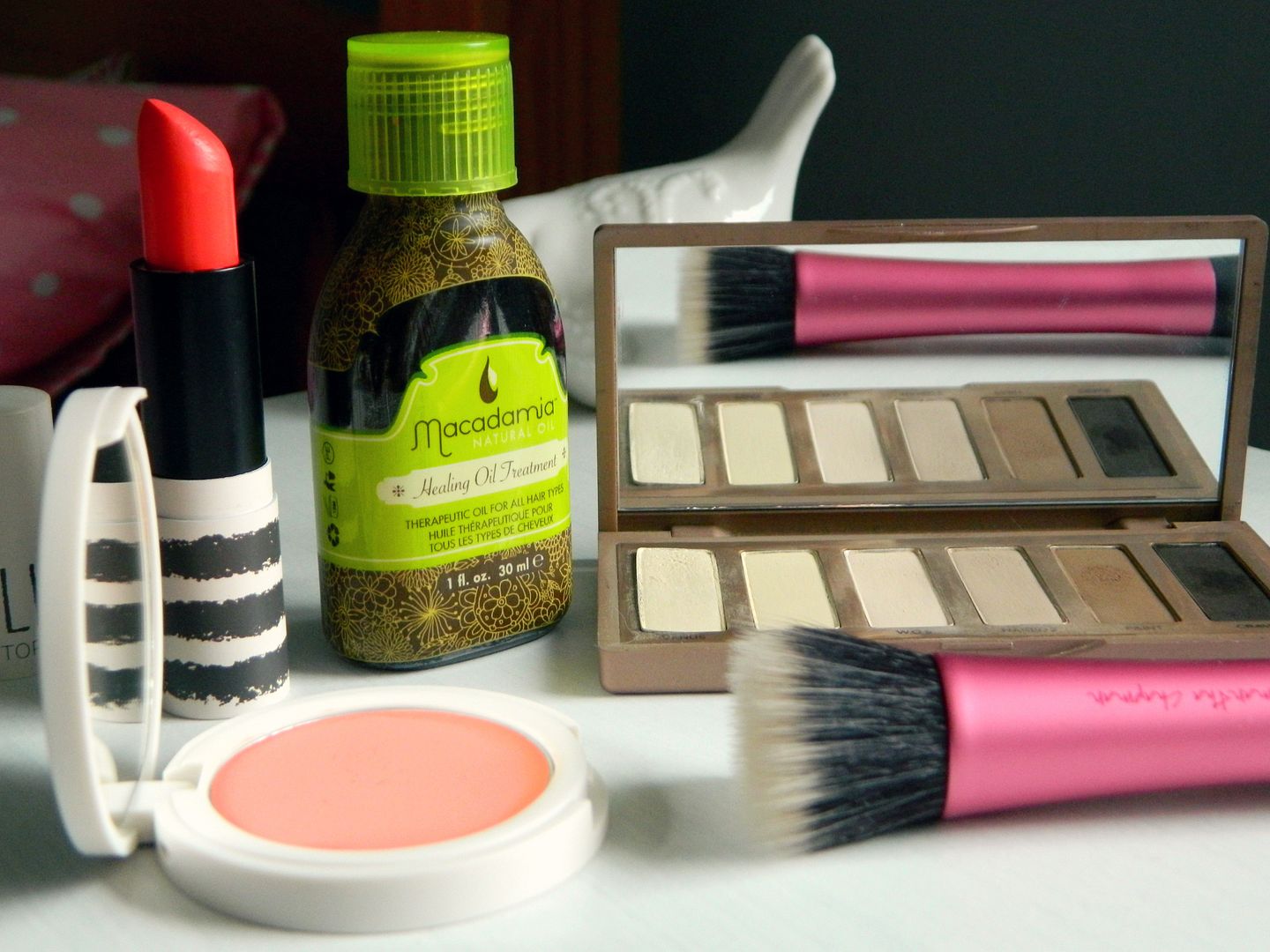 Hello lovelies, I hope you all had a great weekend! I know everyone says this in every monthly favourite's post, but I really can't believe it's June already - in fact, I can't believe we're half way through the year! 2013 is going so fast and I bet before we know it, it'll be Christmas again haha!
This month I've tried a lot of new products and there have been quite a few I've enjoyed, but I like to whittle it down to about 5 absolute favourites for this type of post.


Topshop Cream Blusher in "Head Over Heels" | LINK
I have been trying out quite a few new blushers this month, but this cream formula one by Topshop has definitely stood out to me. "Head Over Heels" is a gorgeous coral colour that gives a healthy flush to the cheeks. The formula is very creamy, pigmented and easy to blend out so is a dream to apply! This is the perfect little blush to add to your Summer makeup collection and I've been loving wearing it this month!
Topshop Lips Lipstick in "Ditsy" | LINK
Again another piece of makeup from Topshop - I'm just loving their products recently! Their lipsticks are so creamy, easy to apply and last really well on the lips. "Ditsy" is a hot coral shade looks amazing on and has completely taken over my love affair with "Infrared". It's a lot easier to wear than "Infrared" and if you're scared of wearing bright orange shades, this is definitely the shade you need to go for!
Macadamia Healing Oil Treatment* [Review] | LINK
I've been using this hair oil for a few weeks now and I cannot believe how healthy and shiny it has left my hair! As my hair is ombre it's prone to going dry and brittle, so a hair oil in my hair care routine is essential. The Macadamia Healing Oil Treatment has left my hair so soft and manageable, even on days when I haven't used it! I highly recommend the Macadamia range and if you're thinking of trying some of their products out, go for it - they won't let you down!
Urban Decay Naked Basics Palette* [Review] | LINK
I've always been a fan of this little palette, but this month I have been reaching for it a lot more frequently than before! I've really been into doing a soft, simple eye look with a bright lip this month and the shades in the Naked Basics palette are perfect for this! I use "Walk Of Shame" all over the lid to even the skin tone out, then I apply "Naked 2" into the crease and then "Faint" into the outer corner. Finally I put a bit of "Venus" into the inner corners of my eyes and to my brow bone. This gives me a very natural yet defined eye look that is perfect for everyday!
Real Techniques Stippling Brush | LINK
My final favourite this month is one of my new brushes by Real Techniques which is the Stippling Brush. As I've been trying quite a few cream blushers recently, I was on the hunt for the perfect brush to apply them with. I've had amazing experiences with Real Techniques before and I knew I wanted to try a brush from their range! The Stippling Brush applies my cream blusher so evenly and it gives my cheeks an air brushed appearance. The bristles are soft, dense and the brush overall is amazing quality! I was thinking about doing a brush collection post soon which will feature all my Real Techniques brushes, so if you're interested in reading that then please let me know in the comments!

So these were my monthly favourites for May, I hope you enjoyed this post and hopefully found some new products you'd like to try!


What are your May favourite's?
My exclusive advertiser of the month is Reserved For Ruby. To find out how you can advertise with me, click HERE.