Well hello there beautifuls!
I'm Zahra (pronounced Zara) and I blog over at
inamakeupminute.blogspot.co.uk
- Amie has been very kind to let me blog on her little space whilst she's on holiday (ah, I wish I was abroad somewhere, *whistful sigh*) - so today I'll be sharing with you a few tips and some of my favourite products for dealing with oily skin.
I have a particularly oily T-zone and I find that in the summer is when it really takes its toll - nobody wants to look like a greaseball in the summer, right? Read on to find out some of the skincare and makeup products which I use to combat this.
Skincare


Moisturise: Even the oiliest of faces need to be moisturised! When I was younger I made the mistake of thinking that there was no point in moisturising - but if you don't your face ends up producing even more oils and that can result in clogged pores, and you know what they equal, right? Breakouts!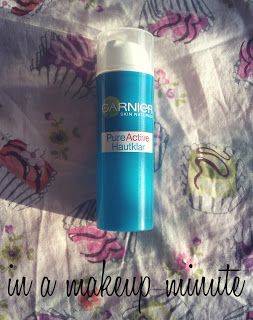 A moisturiser which I'd recommend is the Garnier Skin Naturals PureActive Spot Fighting Moisturiser - This is a gel-based moisturiser with blemish fighting qualities, perfect for those of us who are oily all over and prone to breakouts. If you have combination skin, I'd recommend Korres Pomegranate Balancing Cream-Gel Moisturiser - also gel-based, but more on the creamy side and incredibly moisturising too!
Choose your face wash wisely: The number one rule of oily skin is cleansing well. Use skincare products which are oil-free , there's no use in cleansing your skin if you'll just be putting more oils on, right? I'd recommend Garnier PureActive 3 in 1 Wash & Mask - I'm in love with this because it really does what it says - gets rid of excess oils, mattifies your skin plus you get a face mask with it too, which leads nicely to the next point - use clay or mud masks at least twice a week as they draw out the impurities in the skin. I'd recommend the Superdrug Mud Therapy Deep Cleansing Mud Mask range, they have natural products, smell amazing and work wonders :)
Invest in a good mattifying powder/ blotting sheets - these are different to setting powders as their aim is to absorb excess oils on contact with your skin, a lot of people on the blogosphere love the Rimmel Stay Matte Powder - what's great is that you can get the transparent shade so you don't have to add extra coverage if you want a more natural look!
Blotting sheets are great to use throughout the day too - The rice powder on these also absorb oils like the powder, they're so cheap and come in little booklets which are handy for when you're out and about. I use the Superdrug brand and these have lasted me and entire year, there are so many sheets!


Prime your face
: I can't stress how important this is, especially in the summer where sweat is also a problem, it's really important to apply primer (particularly for oily/ combination skin) as an insurance that your makeup will stay put. I recently tried a sample of Nivea Express Hydration Primer and I saw a noticeable difference.
A word of warning: Don't
completely
cover your skin though, otherwise you risk looking like what I call, a piece of cardboard - leave some shine on your face to have a slightly dewy effect on the skin - this is a definitely a look which a lot of people are sporting this summer, so embrace those oils!
I hope all of these tips and recommendations help you to control those oils, I know that is can be quite a huge nightmare, especially in the middle of summer when you want to be having fun instead of worrying how shiny you look. But as a final note: it's not all doom gloom! Did you know that people with oily skin are less likely to get wrinkles? It's a proven fact that they age more gracefully, so at least we have that to look forward to!
Thanks again Amie for letting me do this, and be sure to pop over to my blog
In A Makeup Minute
, thanks for reading guys.
Mwah!
xoxo
Thank you Zahra for such a great post on how to take care of oily skin - I really hope you found it useful and interesting! Please do take the time to pop over to her lovely blog In A Makeup Minute.
How do you take care of your oily skin?