Hello everyone, I hope you're all well! One of my favourite fashion posts I like to read on other blogs is the "one dress, three outfits" post. This is where you take one dress and then create three completely different looks with it. I was contacted by
Avenue 32
and asked whether I would like to do this kind of post using the designer clothes they stock on their site. I was really excited to make this post as I have been wanting to do one like this for a long time, so I hope you enjoy it!
The dress I chose was the
White Speed Flare Dress
by a fashion designer called
Chalayan
. I thought this was a simple yet very pretty piece that I knew I could make three gorgeous outfits from. I was able to chose any accessories from the Avenue 32 website and I literally spent hours scrolling through and picking out pieces I thought would make the three perfect outfits.
Daisy Head Band
|
Apple Bag
|
Heart Bangle
|
Monocle Ring
|
Cascade Ring
|
Gladiator Sandals
The first outfit I came up with was "Summertime Romance". This is perfect for the summertime when you are simply going to be out and about and you want to look summery. I kept to a gold and white theme to keep the outfit looking fresh and clean. The sandals work so well in this outfit as they bring these white and gold shades together. I'm also in love with the daisy head piece and I think it adds a real summery feel to the outfit.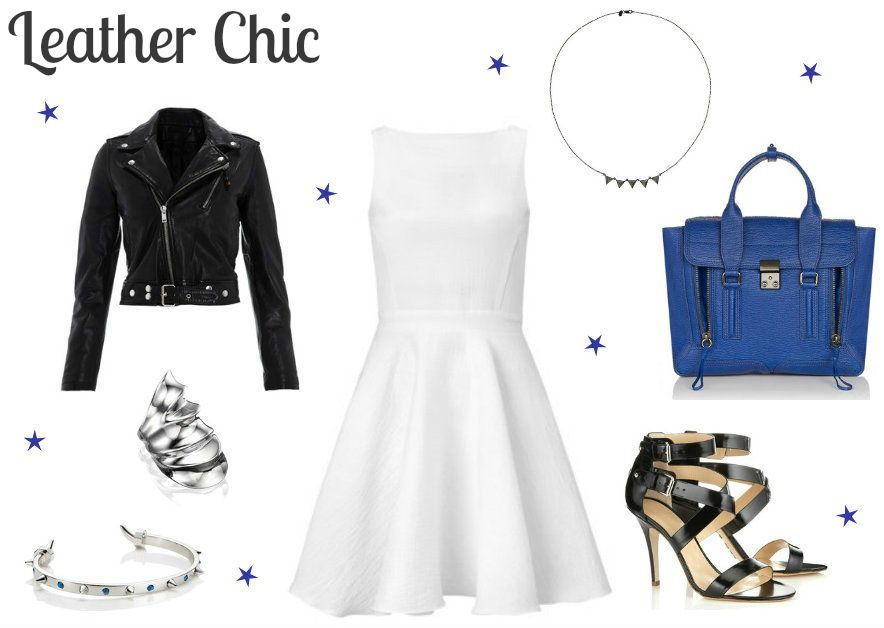 Cropped Leather Jacket
|
Cobalt Leather Bag
|
Stud Necklace
|
Spike & Blue Gem Bracelet
|
Double Draped Ring
|
Black Leather Heels
Next up, I wanted to do something completely different compared to the first look and I have called this "Leather Chic". I love the idea of pairing a pretty, girly dress with a leather jacket as it really adds a bit of edge to an outfit. I also went with some blue and silver accessories which were mainly based around the blue leather bag (which is stunning!). I finally added some black heels to make this outfit perfect for day or night time.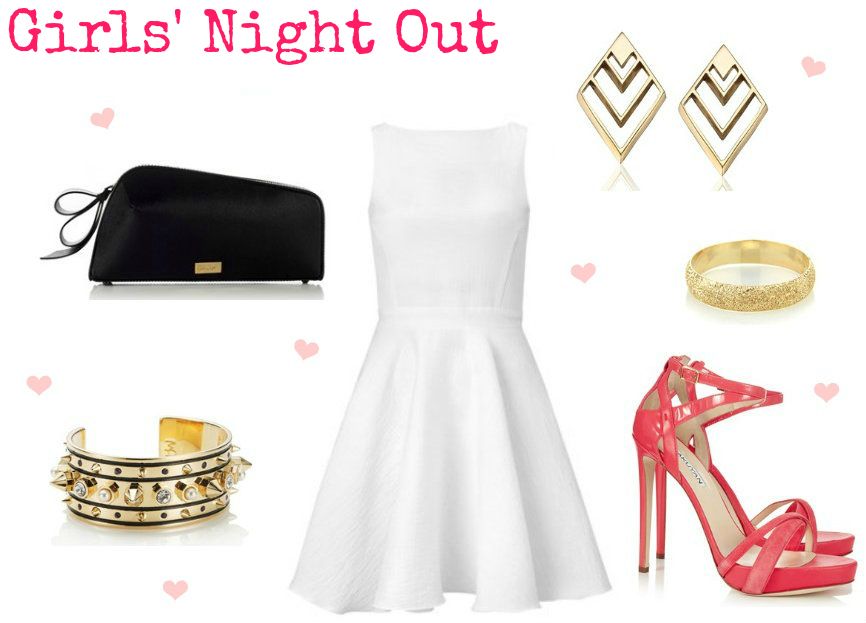 Black Clutch
|
Gold Diamond & Pearl Spike Cuff
|
Stud Earrings
|
Sparkly Gold Ring
|
Pink Stilettos
The last outfit idea I had in mind was a "Girls' Night Out" outfit which would be perfect for going out for drinks and a dance with your friends. I kept the bag quite simple by using a black clutch and then I added a pop of colour by pairing the dress with these beautiful pink heels. With accessories I wanted a statement bracelet and I thought this golden spike cuff was perfect! I also added some simple golden studs and a sparkly golden ring to add a bit of glam to the outfit!
So these are the three outfits that I came up with! I have to say I would wear all three of these and I think they would look stunning for each of the occasions I picked them for. If you are interested in seeing the rest of
Chalayan's collection
then do check out the Avenue 32 website. I hope you enjoyed this post and that you got some inspiration on how to style a white skater style dress. If you would like to see more of these kind of fashion posts then please let me know in the comments below!
What is your favourite outfit out of the three I have come up with?