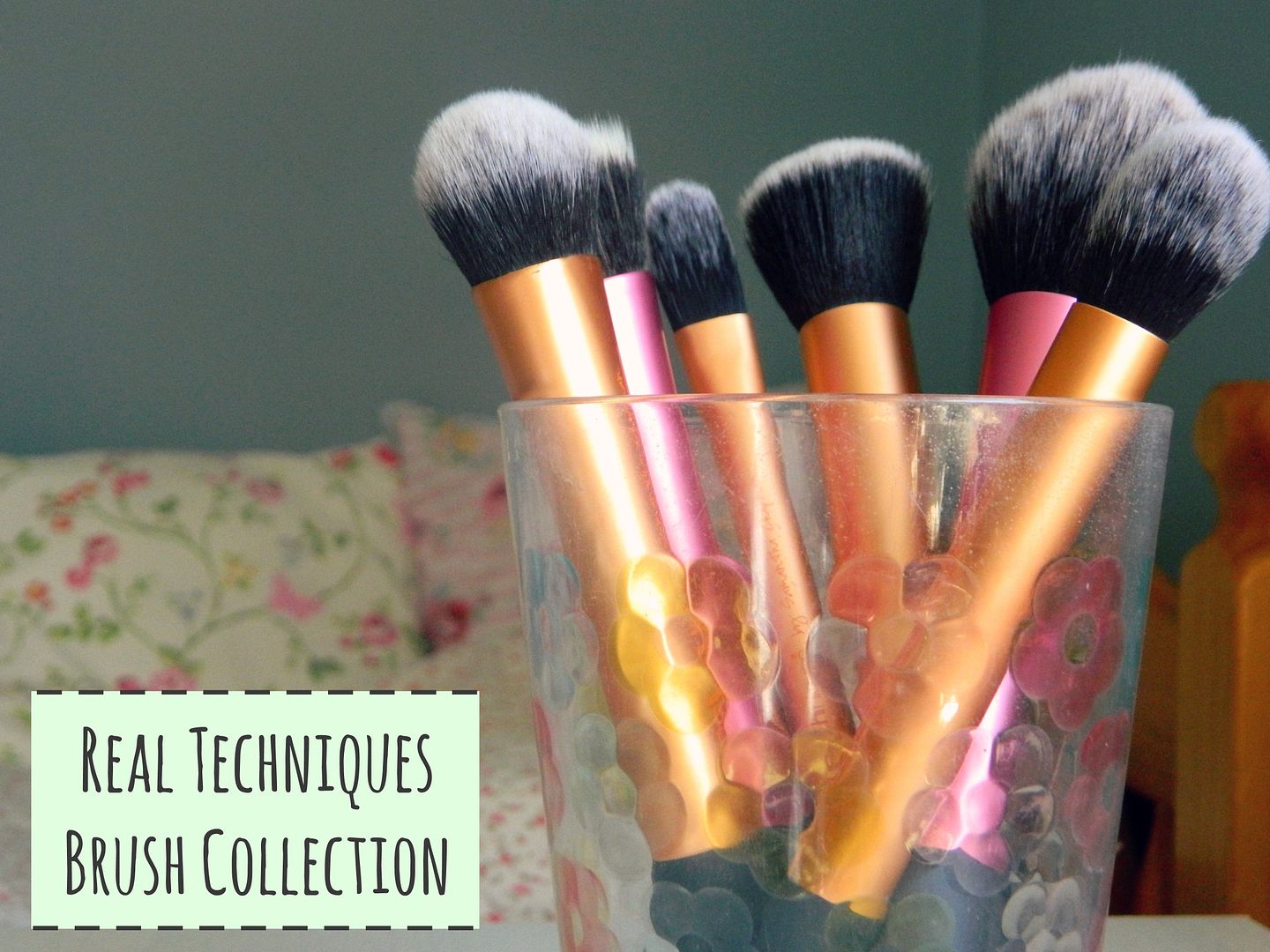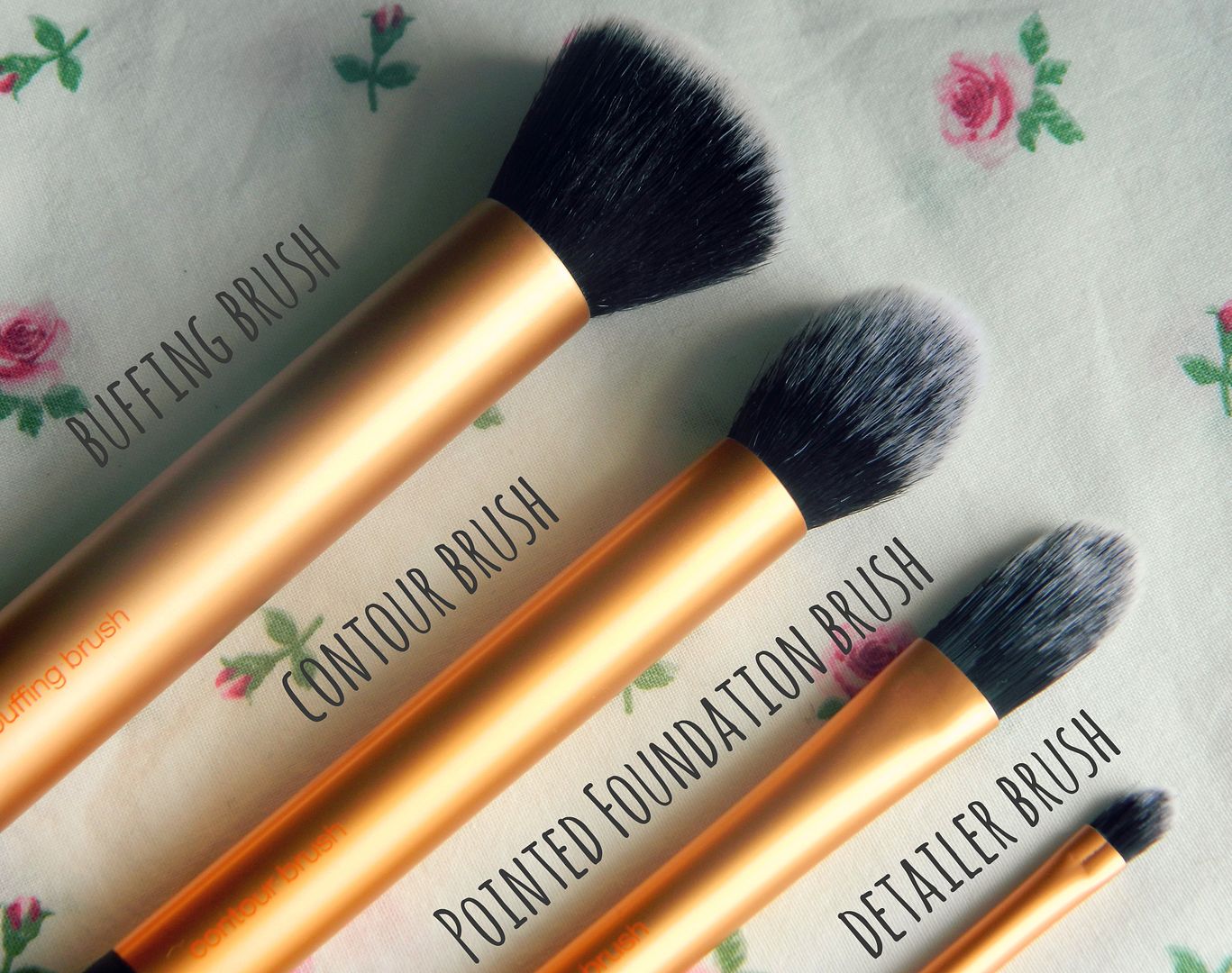 Hello everyone! I hope you're all having a lovely start to you weekend. Today I thought I would make a post all about my
Real Techniques
makeup brush collection. The first time I tried Real Techniques was last Christmas when I asked for the Core Collection for a present. Ever since then I've fallen in love with these gorgeous brushes and I've constantly been on the hunt for new ones to add to my collection. There are still a few more I would like to add to my mini collection, but right now I'm really happy with what I have!
Core Collection | £21.99 | LINK
So like I said, these were the first brushes I tried by Real Techniques and it is definitely a set worth picking up. In this collection you get: a Buffing Brush, a Contour Brush, a Pointed Foundation Brush and a Detailer Brush plus a little brush holder to keep them all safe whilst travelling.
Buffing Brush - This is the brush I use to apply my everyday foundations or BB creams. I find it gives a natural and flawless finish to the skin and is probably the best brush I've tried to apply my foundation. It's not a very dense brush (compared to the ever so similar Expert Face Brush) but it is extremely soft. I wish they sold this brush separately because I would love to have another one in my collection.
Contour Brush - This brush does exactly what it says, allows you to contour your cheeks, jaw line and any other areas you wish to define. I used to use this brush all the time for contouring but now I use it to apply powder highlighter to the tops of my cheekbones. It buffs out the highlighter really well to give a natural glow to my cheeks. The brush I currently use to contour will be mentioned later!
Pointed Foundation Brush - I hardly ever use this brush which kind of frustrates me because it's not a bad brush, I just can't find a use for it! It's meant for applying liquid foundations, but for me it's just too small and leaves my skin looking a bit patchy. Many people use this as a concealer brush but I prefer to apply my concealer with my fingers and then buff it in with the Buffing Brush. If you have found a great way to use the Pointed Foundation Brush, please tell me in the comments below!
Detailer Brush - This brush is designed to apply small amounts of makeup to create a flawless finish. I actually prefer to use this brush to apply an inner corner highlighters to my eye. It's the perfect shape and size to apply the right amount of product to make you look more awake.
Brushes Sold Separately
As well as brush collections, Real Techniques also sells a wide range of brushes you can buy on their own. I only have a few of these as they do range from around £6.99 to £12.99 so can become expensive very quickly. However, they are amazing quality so do work out good value for money.
Blush Brush | £9.99 | LINK
- This is another brush that says exactly what it does! I use this to apply my powder blushers to the apples of my cheeks and I find it blends them out beautifully. It's a very soft brush so allows your blusher to blend into your makeup seamlessly.
Stippling Brush | £11.99 | LINK
- The stippling brush is a versatile brush that can either be used for liquid foundations or applying cream blushers. As I love my Buffing Brush for my foundation, I use this brush to apply my cream blushers and I have to say, it does it so well! The bristles are so soft but at the same time dense which allows your makeup to apply smoothly and look amazing.
Expert Face Brush | £9.99 | LINK -
The final brush in my collection is my newest edition and it is the Expert Face Brush. I had been eyeing this brush up for such a long time after hearing it was pretty much the best brush in the range! I was very lucky to win this in a giveaway recently and now I'm so glad to be able to use it! This is the brush I like to contour and apply powder bronzer with. It's very dense and again, like all the Real Techniques brushes, it is also soft. I'm not a fan of using this brush to apply foundation, but it is amazing to contour with and I absolutely love it!
So this is my Real Techniques brush collection plus a mini review on each of the brushes. Real Techniques is definitely one of my favourite makeup brush brands as they're amazing quality and at such a good price. I hope you enjoyed this post and that you now what to try out some of these makeup brushes!
What are your thoughts on Real Techniques brushes?
What is your favourite Real Techniques brush?