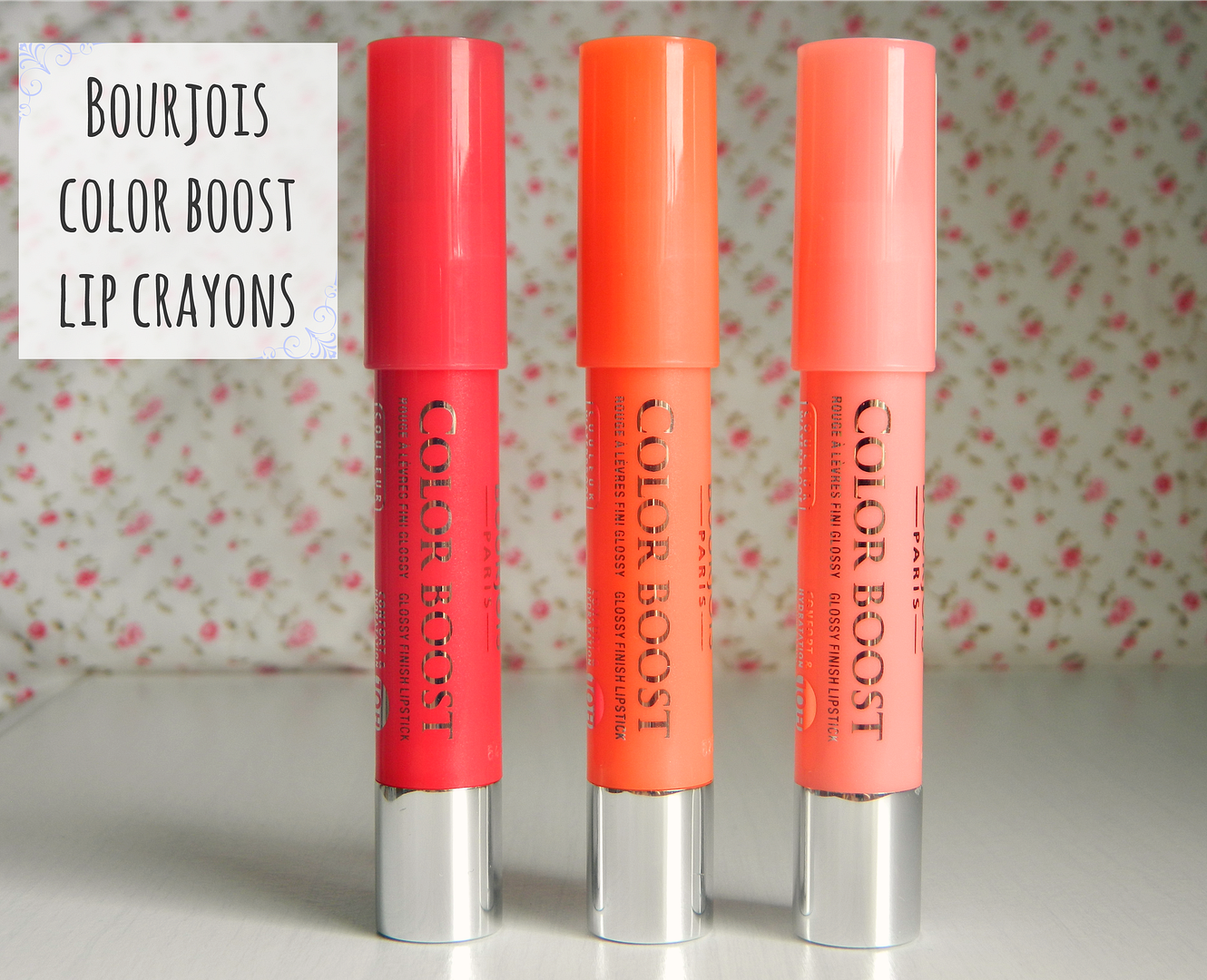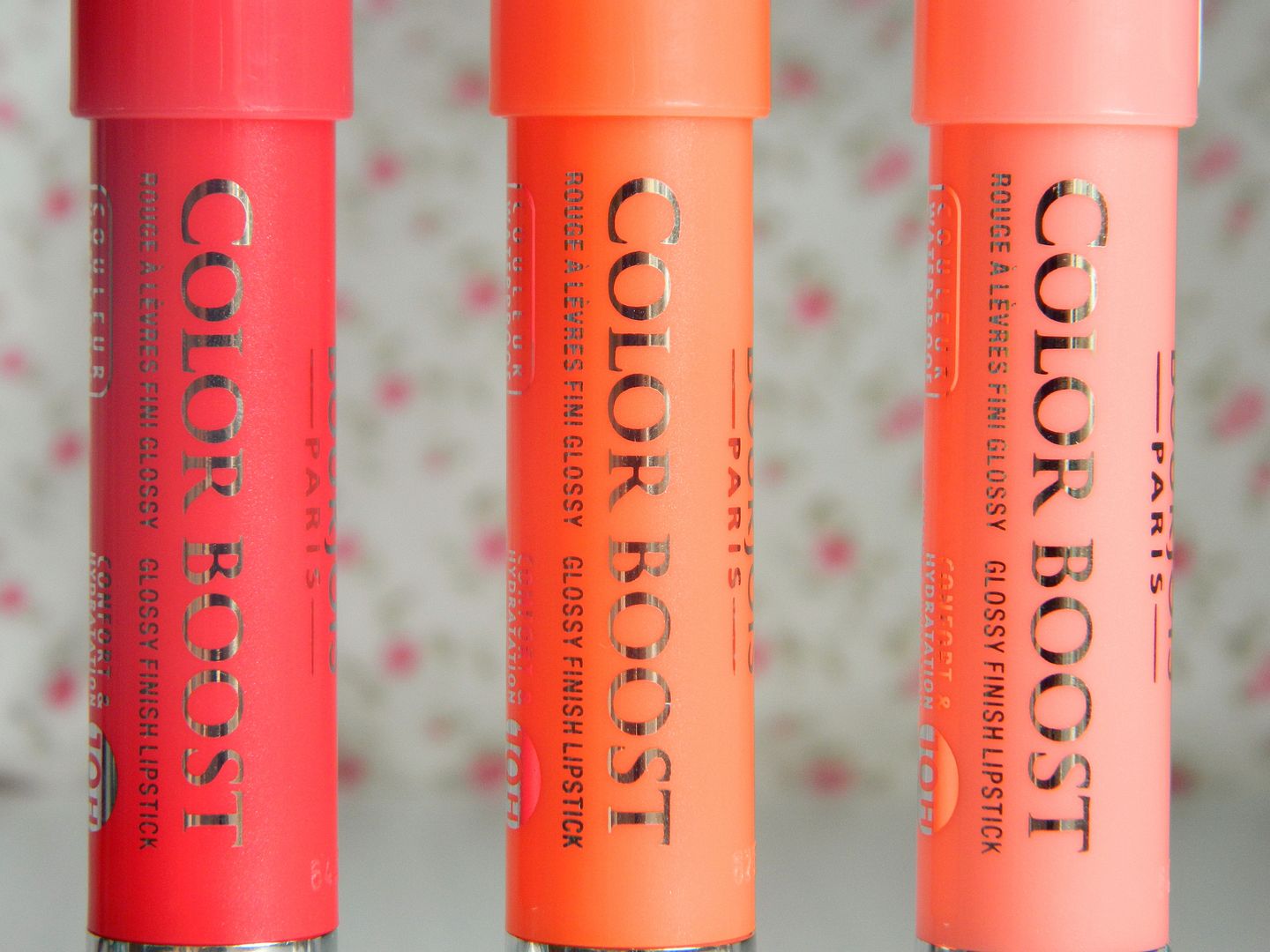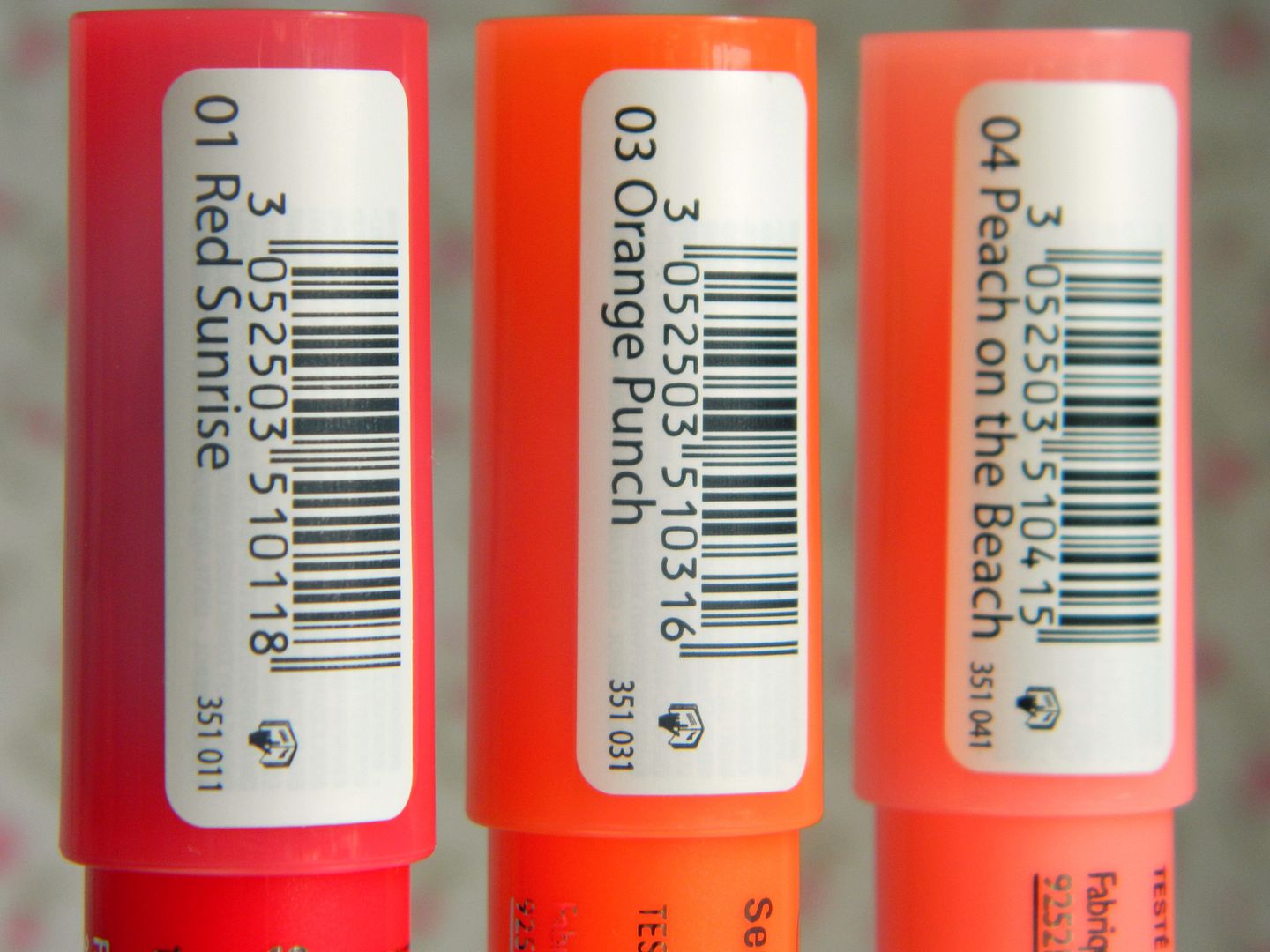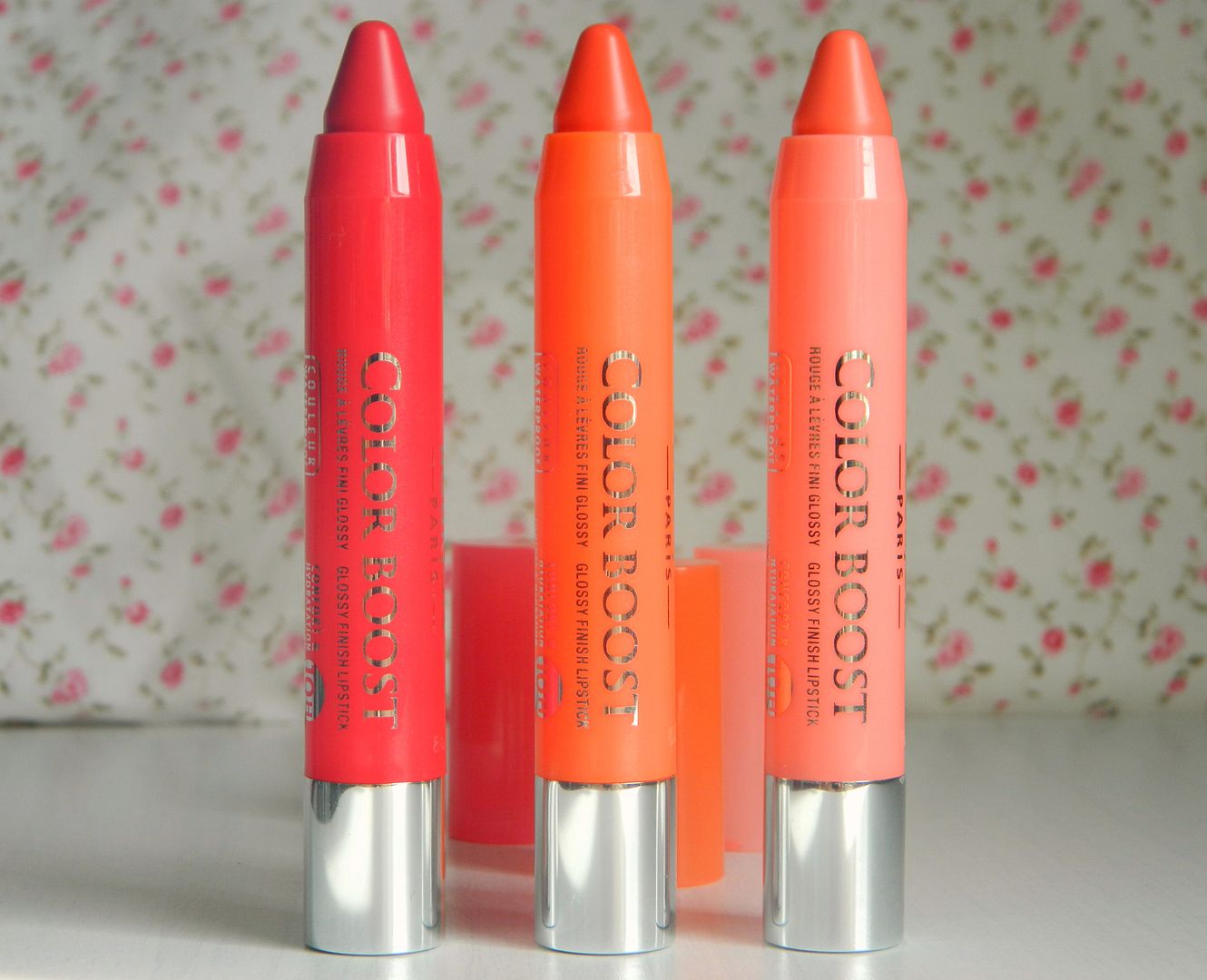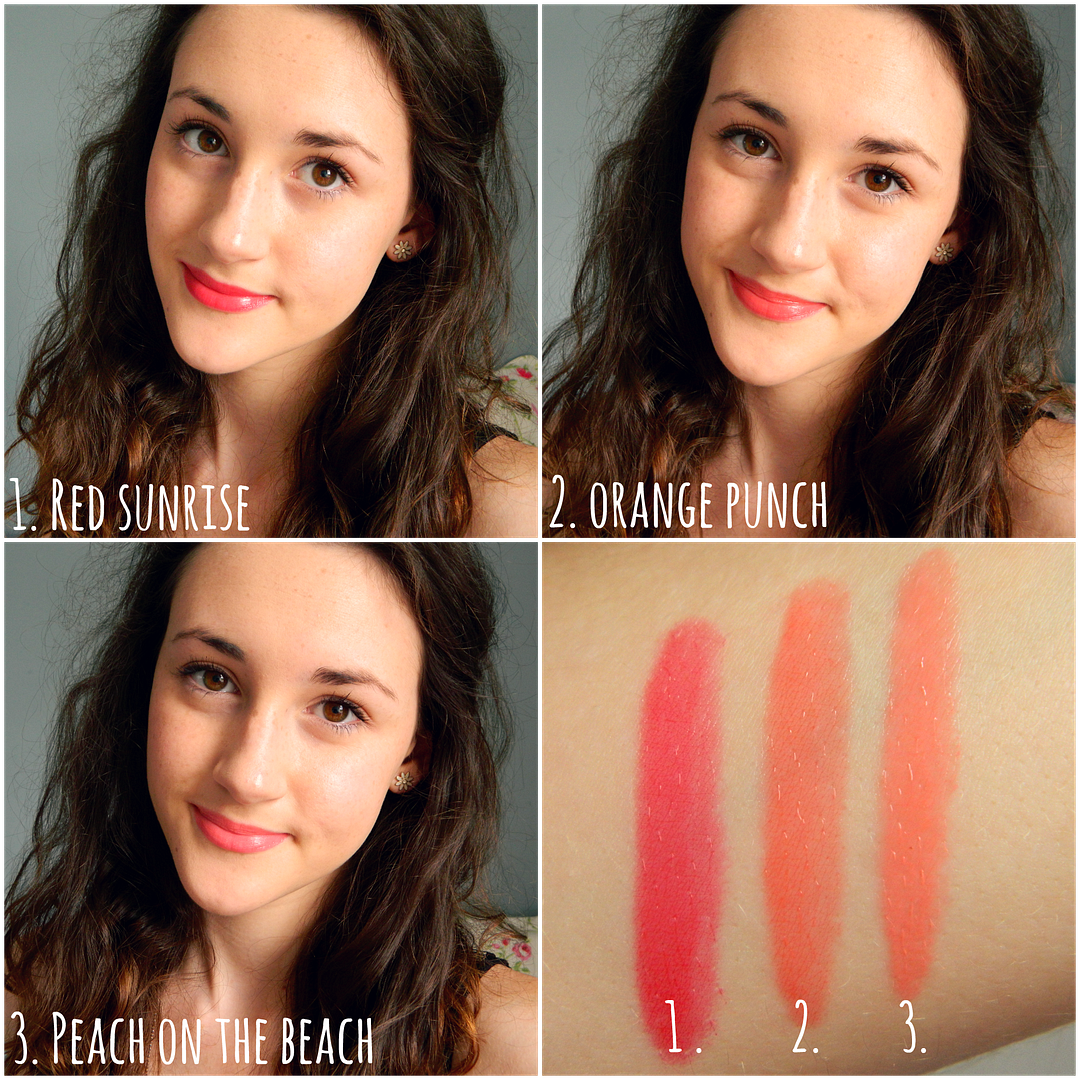 Hello everyone, I hope you're all having a lovely start to your weekend! Today I'm going to be reviewing some of my new favourite lip products; the Bourjois Color Boost Lip Crayons. On a recent trip to Boots I spotted that the Bourjois stand had a 3 for 2 offer across all their makeup, so I snapped up 3 of these lip crayons plus a free pair of sunglasses - £16 well spent I think! I have never actually tried any form of balm stain before and after hearing so many raving reviews from other bloggers, I knew that I had to jump on the bandwagon and finally try them out.

The Bourjois lip crayons come in 4 different shades: Red Sunrise, Orange Punch, Peach On The Beach (the 3 I have) and Fuschia Libre. All of these shades are perfect for the summer and are great for adding a hint of colour to a makeup look. Red Sunrise is a pinky red shade that is very pigmented considering it's just a balm stain. Orange Punch is an orange tint that almost transfers as a coral when applied to your lips. This is a very pretty everyday orange shade and is good for those who wouldn't want to wear a bold bright lipstick. Finally (and probably the most famous out the bunch) Peach On The Beach is a beautiful peachy pink shade that gives a tint of colour to the lips and is perfect for everyday.

These lip crayons are kind of like a mixture between a lipstick, lip balm and lip gloss - they have a very soft and smooth formula which gives a lovely amount of colour and shine to the lips. They're not at all sticky and just feel like you're wearing a smooth lip balm. They also have a really nice fruity scent which is subtle and pleasant. One other thing I like about these lip crayons is that they also have SPF 15 so will help keep your lips protected from the sun. Finally Bourjois claims that these lip crayons are water-proof and will last on your lips for a massive 10 hours!

At first I was very sceptical about this claim as I thought these lip crayons wouldn't be that strong - but they are! I am so impressed with the formula of these lip crayons and they literally stay on your lips for a good few hours even after eating or drinking. Red Sunrise is definitely the most impressive out of the 3 I have and is always the shade that seems to last the longest. As for the other 2, they don't last as long but I think that's because their colours aren't as strong or pigmented so I do find I have to keep replying them throughout the day.

As for the packaging, each lip crayon comes in a tube of the same colour as the actual product. To get more product out the tube you simply twist the bottom silver part of the tube. You also get a fair amount of product - much more than the average lipstick so these are really worth £7.99.

Overall I am so impressed with these lip crayons! In fact, I've been rather impressed with a lot of Bourjois' latest beauty releases and I would also love to try their bronzing primer - it sounds amazing! I would highly recommend you trying out the Color Boost Lip Crayons, especially if you're after a wearable product that will give your makeup a hint of colour for the summer.
Have you tried the Bourjois Color Boost Lip Crayons?
Which is your favourite shade?