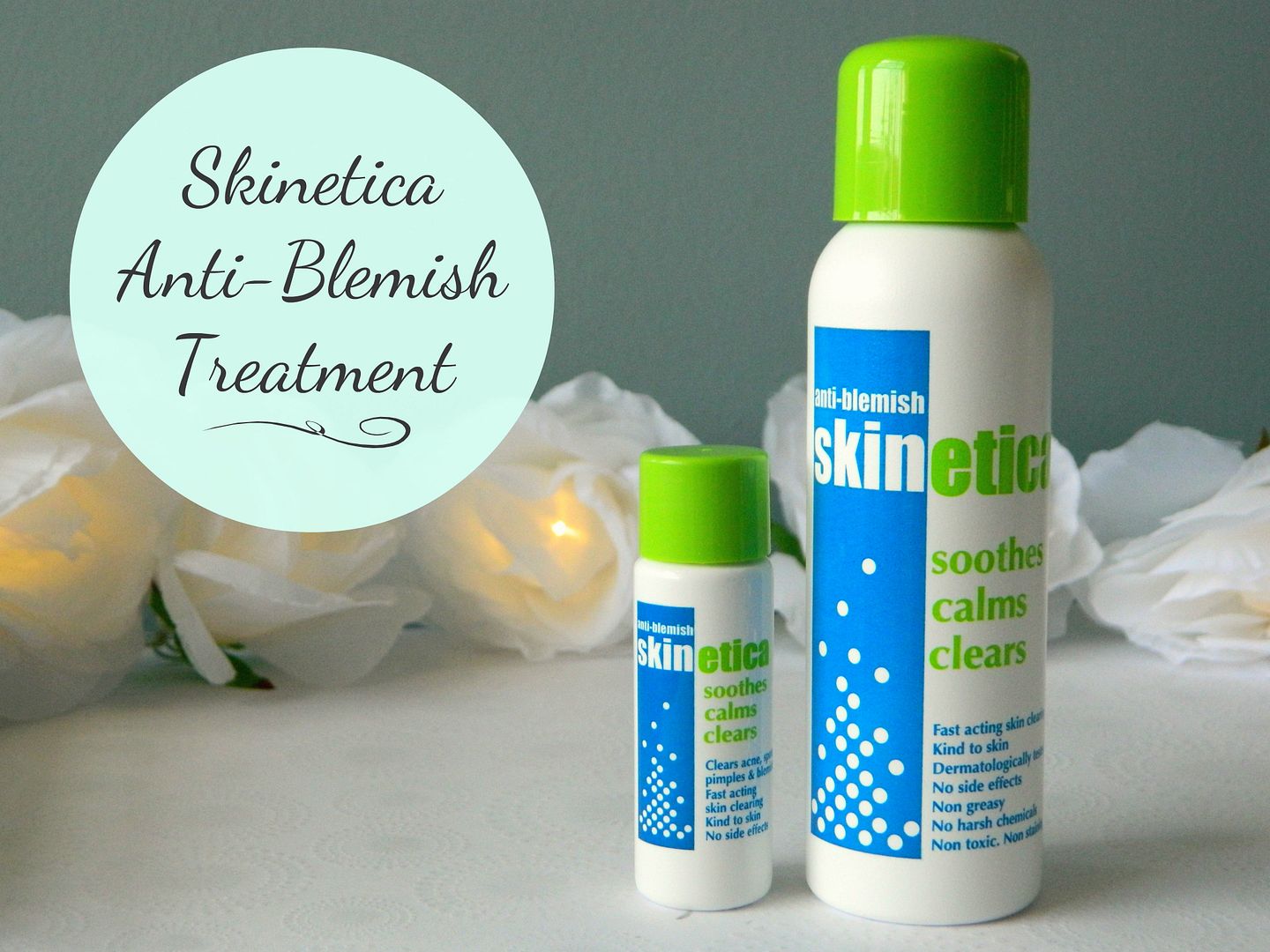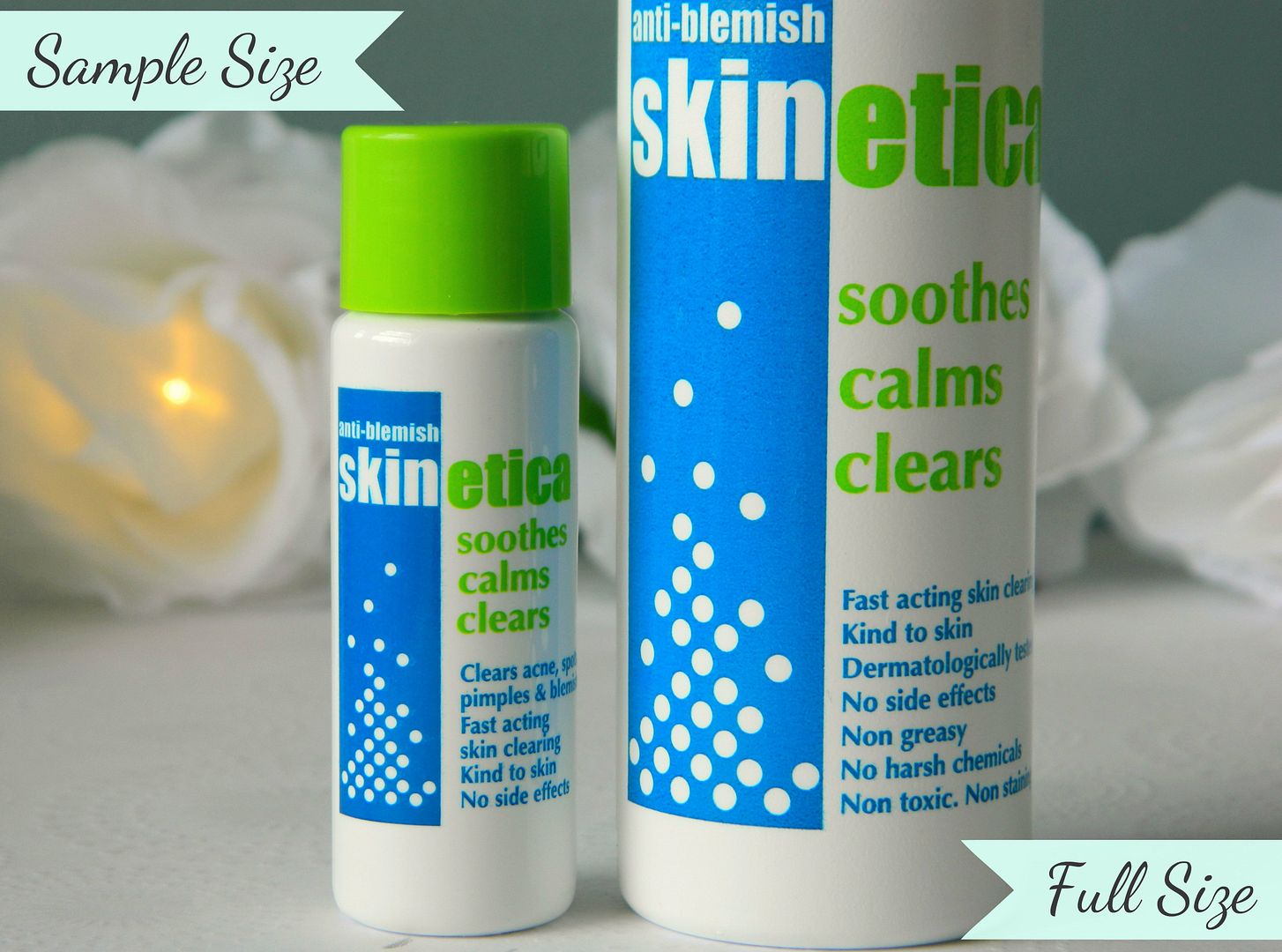 Hello everyone, I hope you're all having a lovely start to your weekend! I remember a few months ago, there was a lot of talk about a skin care product called
Skinetica
after it had appeared in one of the Glossy Boxes. I remember reading endless reviews on this product, but had never got round to actually trying it for myself. A few weeks a go, I was contacted by the lovely people from Skinetica asking whether I would like to try out a bottle. Of course as I had seen all the rave reviews about it I jumped at the chance! I'm always looking to try new skin care products as my skin can be very temperamental so I'm constantly on a mission to help combat my breakouts. Just so you know, my skin type is slightly combination (more so dry than oily) and very sensitive.
Skinetica is a skin and blemish clearing treatment that also acts as a toner. It claims to soothe, calm and clear skin within 2 - 3 days. The words soothe and calm really attracted my to this product as my skin is very sensitive and can react to products really badly if they're too harsh. Skinetica only contains 4 ingredients and doesn't have any nasty chemicals that can upset the balance of your skin. This means it's non-allergenic as there are no sides effects, plus it doesn't dry our your skin or leave it feeling greasy. It literally feels like you're applying water to you skin it's that gentle!
To use Skinetica, you need to pour a a fair amount on to a cotton wool pad and then apply to clean dry skin. I do this after I have toned my face with my Simple Skin Soothing Toner. Skinetica also works as a "super" toner and will remove the last traces of makeup, cleanser and dirt left on your face. I wipe the cotton pad across my face and focusing on any oilier areas and blemishes such as my nose and chin. You can also apply Skinetica to your chest and back if you do suffer with blemishes/ acne in these areas. Once applied, you need to leave your skin to completely dry before you apply your moisturisers and makeup. This only takes a few moments and doesn't make my skin feel dry or tight whilst it dries. Skinetica will continue to work underneath your moisturisers and makeup for 12 hours so it's recommended to apply it morning and evening. I find that straight after using Skinetica, my skin feels very clean and refreshed and it's never left my skin feeling dry or uncomfortable. The scent of Skinetica is fairly strong and not extremely pleasant, but once it's dried on your skin it doesn't leave any smell behind.
Over the past few weeks, I've found Skinetica has definitely helped to improve my skin. Small blemishes have healed up pretty much over night which is great! However, my larger blemishes have seemed to take the same amount of time to heal as normal, but they don't seem as red. I rarely suffer with these larger breakouts, I mainly get small pimples, so Skinetica has definitely helped keep my skin become a lot clearer. The main improvement I've seen is with blackheads, especially around my nose/ chin area - they're pretty much clear now!
Overall, Skinetica is a really good blemish treatment and I think it does an amazing job considering how gentle it is on the skin! I will definitely keep using this product as it has become a new step in my skin care routine that I enjoy doing. I'm also really grateful that I received a sample/ travel size bottle as I can bring this with me on my holiday to help keep my skin clear! You can order the sample size off the Skinetica website (
HERE
) for just £1 which is an amazing way to try it before you purchase the full size. Full sized bottles are also available off the
website
as well as from pharmacies.
Have you tried Skinetica before?
What are your thoughts on it?