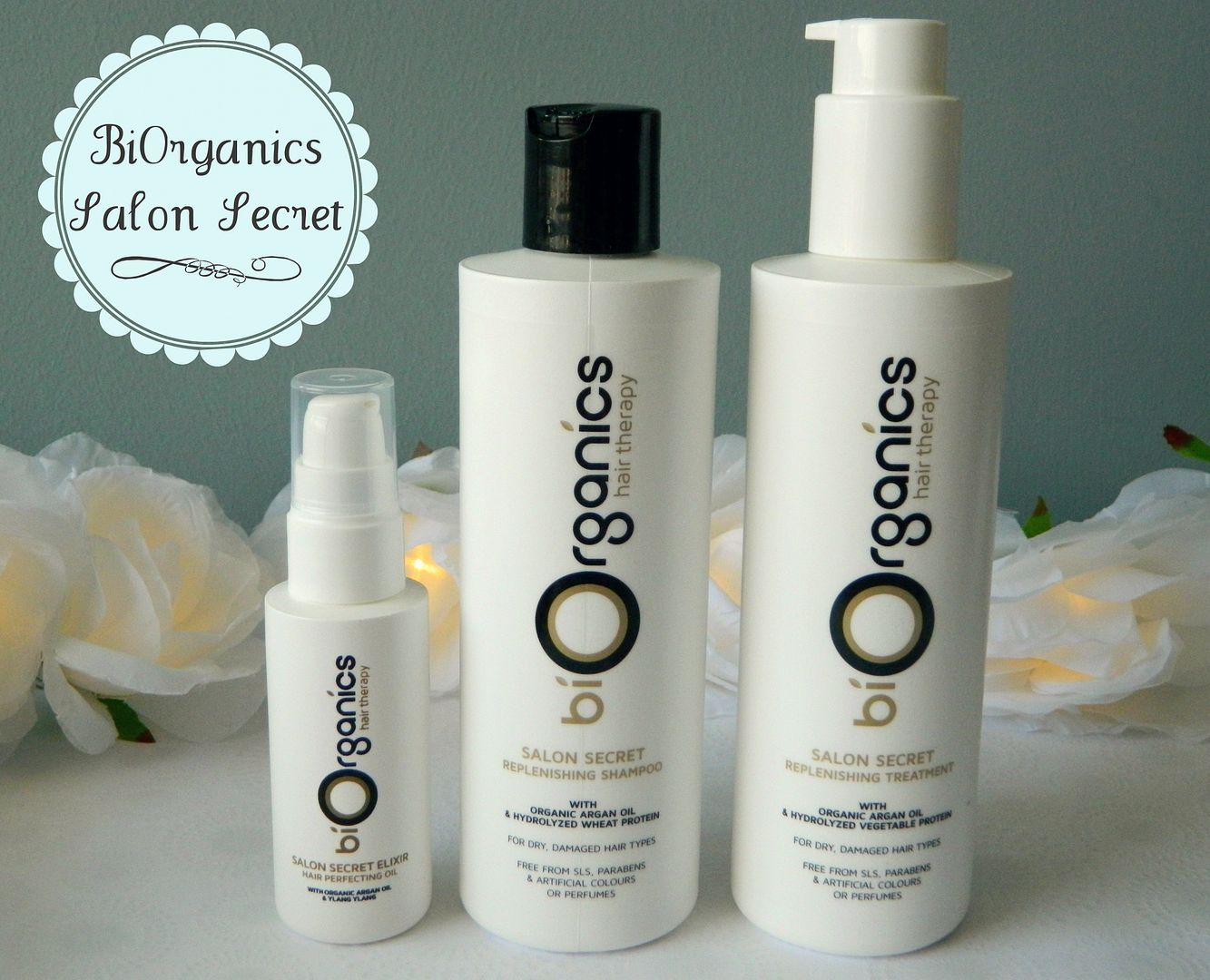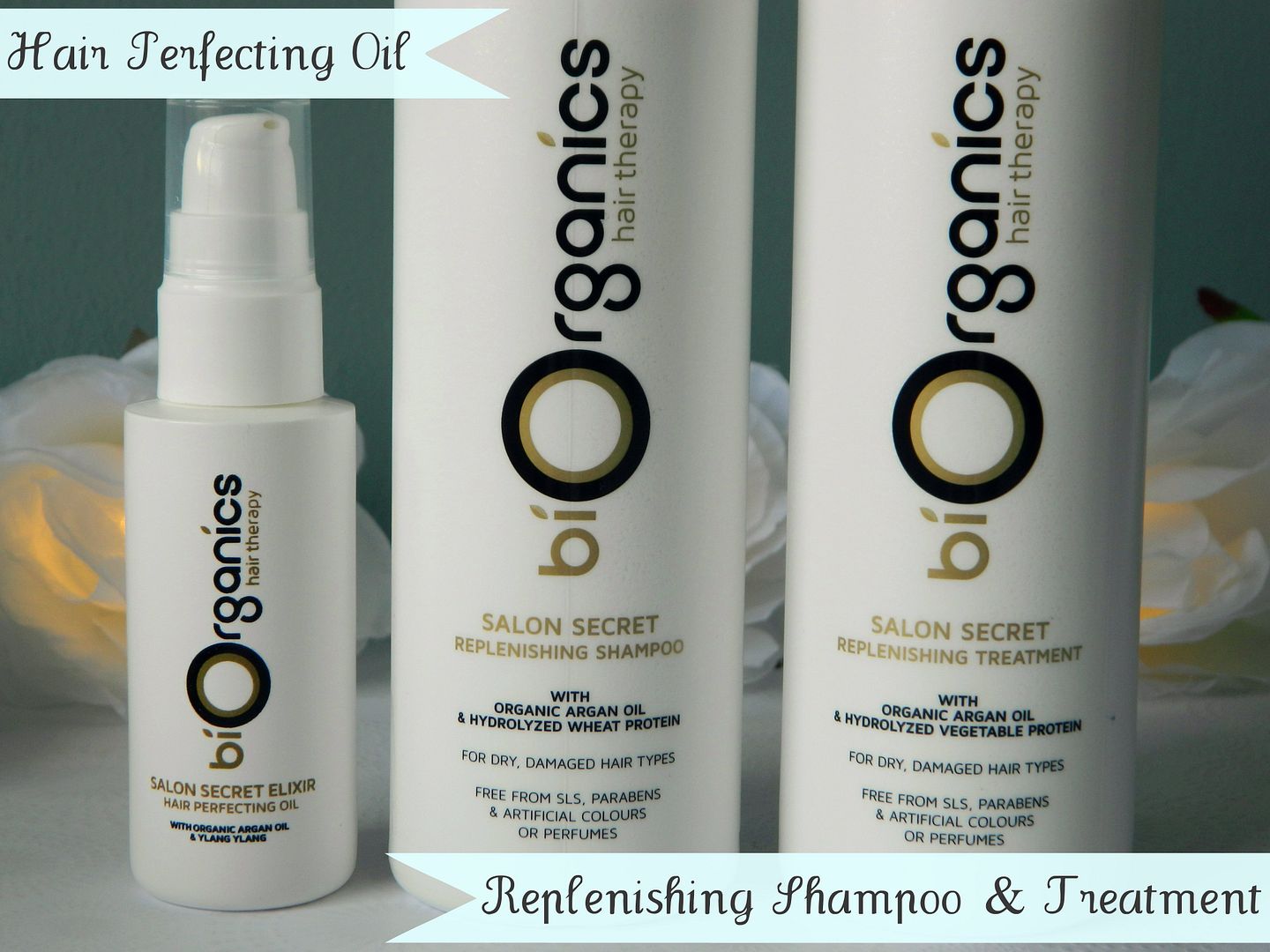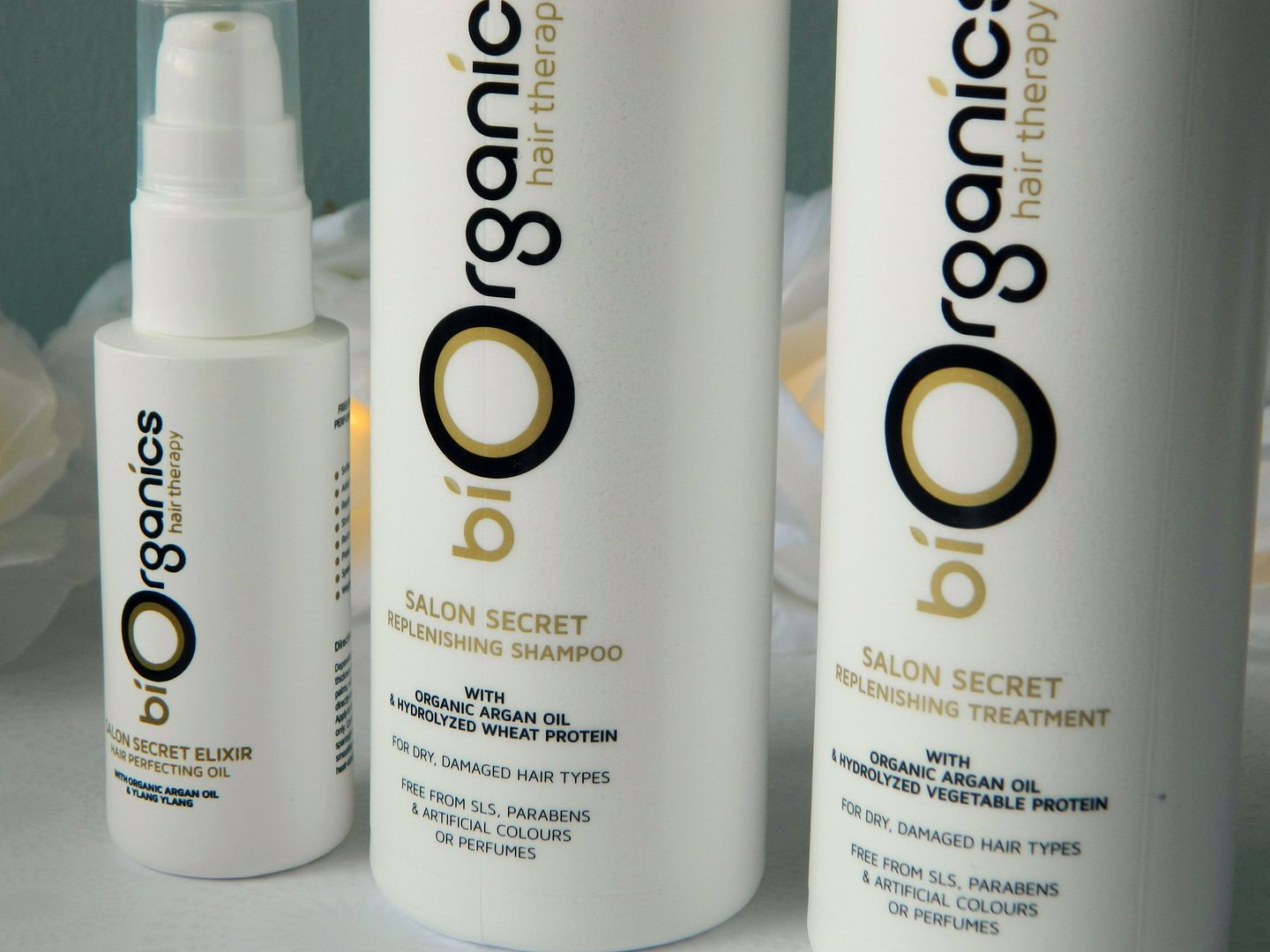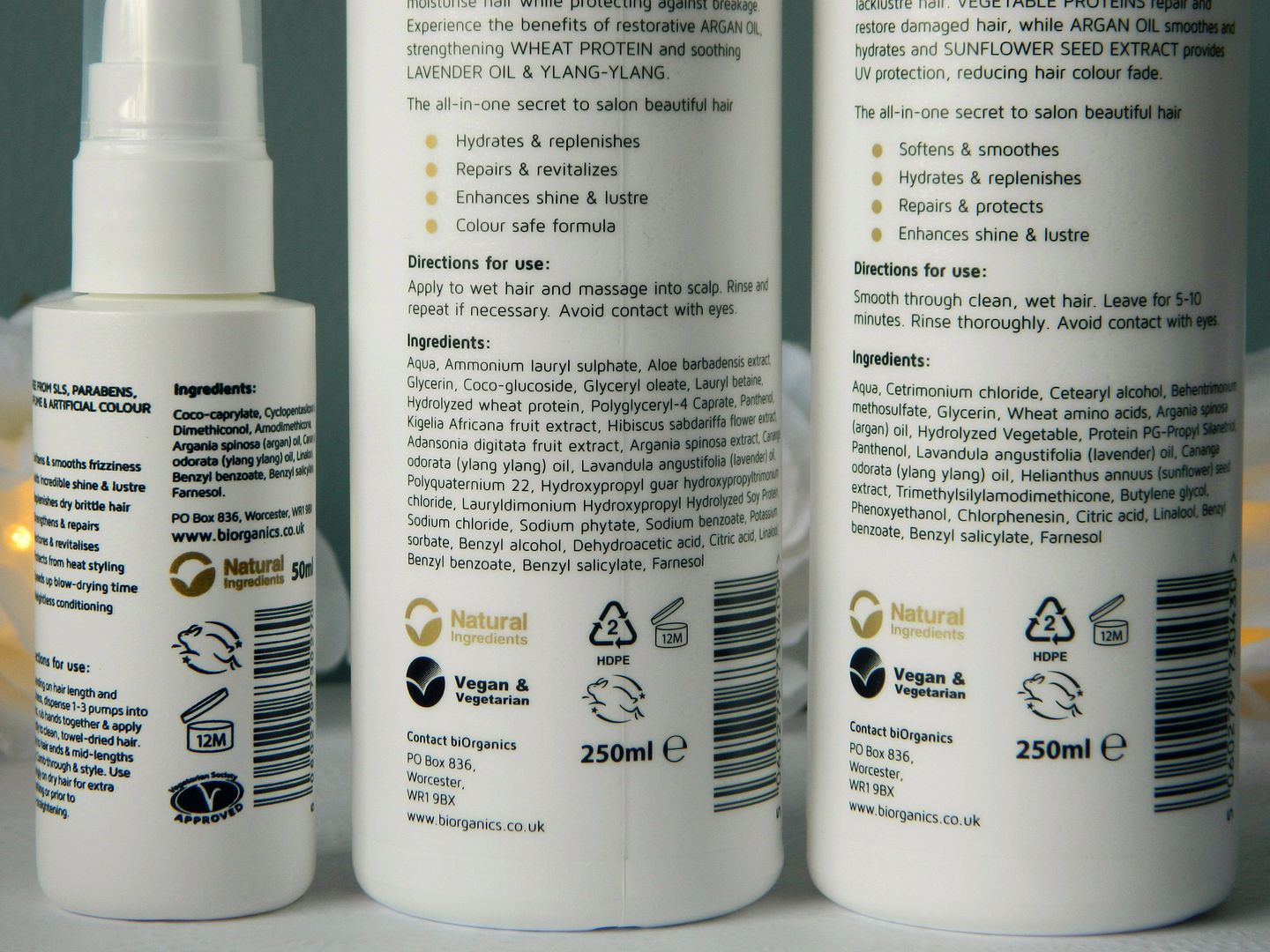 Hello everyone, I hope you're all well and enjoying the gorgeous weather we've been having recently! Today I have a few products to review from
BiOrganic's
new hair care line; the
Salon Secret
range. This new range is a designed to help dry, damaged and frizzy hair which has been caused by heat, colour and the environment. My hair is pretty damaged, mainly from heat and bleach, and I can find it goes frizzy has it has a natural curl to it. I thought this range would be perfect for me and I was very excited to see how the products left my hair!
BiOrganics is a luxury hair care brand that uses natural and organic products to deliver salon like results. They are also a cruelty-free brand and all of their products are suitable for vegetarians and vegans! In this range there is: a shampoo, a treatment (which acts like a conditioner) and a hair oil. All of the products contain Argan oil and Ylang Ylang which work together to soften hair and reduce frizz. Finally, they are all free of SLS, parabens, perfumes and artificial colours making them gentle and all round good for your hair!
Salon Secret Replenishing Shampoo | £11.50 for 250ml | LINK
The first product from the Salon Secret range I tried was the Replenishing Shampoo. This shampoo is designed to help repair and moisturise damaged hair whilst protecting it from further damage by strengthening it. You only need to use a small amount of the shampoo and it comes out as a clear liquid which doesn't lather up when massaged into wet hair due to it being SLS free. The Replenishing Shampoo does leave my hair feeling soft and clean, so despite not looking like it's cleaning your hair, it actually is! My one issue with this shampoo is the scent - it's a very strong lavender smell which won't be to everyone's taste, but I do find the smell doesn't linger on the hair after being washed out. I find that the shampoo washes out very easily and doesn't leave any product or residue on your hair, leaving it weight-less and very soft! This is a great shampoo that works really well and I love the fact it's free of all the unnecessary chemicals that you find in other hair products!


Salon Secret Replenishing Treatment | £15.50 for 250ml | LINK
Next up I tried out the Replenishing Treatment. I think this is a great products as you can either use it as a normal conditioner and leave it on for a couple minutes, or use it as a deep-conditioning treatment/ mask and leave it on for around 10 minutes. Again, the treatment is designed to help add shine and moisture to your hair and make it more manageable. It also uses Sunflower seed extract to provide UV protection which helps protect colour treated hair! The treatment comes with a pump which I really like as you can control how much product you use. As my hair's quite thin I use half to 1 pump of product and apply it to the lengths of my hair. Like the shampoo, I find the treatment very easy to wash out and it leaves my hair so soft and smoothe. It has the same lavender scent as the shampoo, but again it's hardly noticeable once you've washed the product out. I've really enjoyed using this treatment and think it's done wonders for my hair as it's a lot stronger than other conditioners I have used!


Salon Secret Elixir Hair Perfecting Oil | £13.00 for 50ml | LINK
The final product I tried from the Salon Secret range was the Hair Perfecting Oil which contains the Argan oil and Ylang Ylang to smooth and improve your hair! It can also speed up blow-drying time and protects from heat styling so is a great multi-tasking product! I'm a huge fan of hair oils and I have to say this is one of the nicest oils I have tried. The formula is quite thin so doesn't weigh down my hair plus it is absorbed very quick so doesn't leave my hair feeling greasy. I like to use this when my hair is wet and I apply just under a pump of product to the lengths of my hair. I find this leaves my hair so soft, defined and shiny! I also like that the bottle is plastic and has a pump so this will be perfect to take with me on holiday as it's not as prone to breaking. I've really enjoyed this hair oil and it has made my hair so much healthier in the past few weeks of using it - I would highly recommend people with damaged hair to give it a go!
So these are my opinions of the new BiOrganics Salon Secret range. I've really enjoyed using these products together over the past few weeks as they have made my hair feel so much stronger and healthier. If you're looking for a higher end hair care brand that is free from chemical nasties and is cruelty-free, I would definitely recommend you trying BiOrganics! You can also buy the Salon Secret products in bundles which will save you money by doing so! You can but the full range for £35
HERE
or just the shampoo and treatment for £25
HERE
.
Have you tried BiOrganics products?
What are your thoughts on the Salon Secret range?